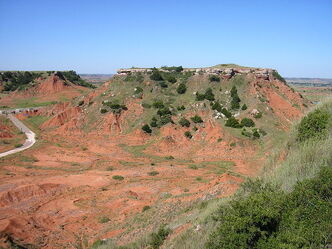 Mesas are geographical features which have a flat top and steep sides that are actually classified as cliffs. Mesas can be broken down by erosion and turned into buttes. Mesas can be found in many parts of North America and parts of Europe and Africa and sometimes give people great danger. Also are very attractive.
Appearance
Edit
Mesas appear to have flat tops and steep sides. They are taller than buttes but seem to be relatively matching the size of some plateaus. They have rocky caprock and can be eroded in buttes.
Formation
Edit
Mesas are formed by tectonic activity and erosion of different rocky landforms. When rocks erode, layers of rock begin to form. These layers of rocks are called strata. When strata rocks become strong, it gives the mesas their distinctive shape.  cool 

The word mesa is derived from the Spanish and Portuguese word for "table".
Ad blocker interference detected!
Wikia is a free-to-use site that makes money from advertising. We have a modified experience for viewers using ad blockers

Wikia is not accessible if you've made further modifications. Remove the custom ad blocker rule(s) and the page will load as expected.