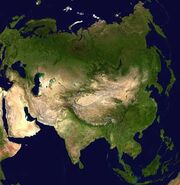 Asia is the largest and most populous continent in the world. It contains some of the most populous nations, including China and India.
Primary Resources
Edit
Largest Asian Countries in Area
Edit
*Note: This list only includes the eastern half of Russia that is classified as part of Asia.
Asian Countries
Edit
British Indian Ocean Territory
Ad blocker interference detected!
Wikia is a free-to-use site that makes money from advertising. We have a modified experience for viewers using ad blockers

Wikia is not accessible if you've made further modifications. Remove the custom ad blocker rule(s) and the page will load as expected.